If you want to beat your friends in Facebook Messenger Ludo Club game and leave them dumbfounded then you need to read this article, you won't get this anywhere. Ensure you go through everything without leaving anyone out.
Ludo is a strategy board game for four or two players. The players race their four pawns from start to the finish-point according to the role of a single die with six faces.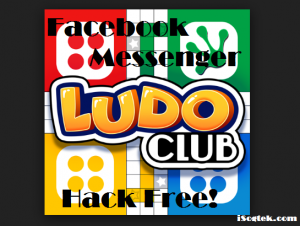 Specific areas of the Ludo board are representatively colored in red, green, yellow and blue. All players are assigned to a particular color and have four pawns in their color.  You need to get a six on the die to place your pawns or tokens on the playing-column.
Cool Way To Get A Six In The Facebook Messenger Ludo Club
I have used this trick a lot, but it works 70%. Although this is not the main trick I want to talk about I also decided to post it here – the main trick is below
Take note of the angle at which your friend or opponent clicked the "Roll" button to get a six. Wait till it gets to that angle then click it and you would probably get a six. Ensure you pay proper attention while playing the game.
How To Chose Your Score In The Facebook Messenger Ludo Club Game Using Your PC
Launch The Game
A new window pops up when you load the game on your Computer. Wait for it to load completely.
Open the DevTools
On your computer, a really suitable setup is to set the DevTools to display vertically by the side of the screen or monitor. Ensure you use the console drawer below.
Look For Facebook Messenger Source
Facebook Messenger is loaded in an iFrame. You can get it in the sources by searching for "instant-bundle."  Ensure you make use of the "Elements" tab of the DevTools and not the "View Source" feature for it doesn't work when the page changes into something else.
Select The #document Element In The Frame
Now you would be able to make use of the FBInstant javascript object from the console. I found out later that this was the API of Facebook for the devs and that choosing #document permit the DevTools to "attach" the console to the Javascript environment of the iFrame. Most importantly it offers a nice function setScore, which we would be making use of.
Launch This Command
Launch this command "FBInstant.setscore(46)" or "js_FBInstantSetScore(46)".
Here you go. Keep winning and never stop!