Payoneer Account Creation– One of the key factors in growing any new or local business is the flexibility of payments for services rendered. Making it easy for your customers and end-users of your products to be able to pay you for your services in any currency speedily on a secure platform.
Payoneer solves that issue with payment in over 150 currencies you could grow your business and render services internationally without fears. You could choose to withdraw payments to your local bank accounts or pay other Payoneer customers.
This platform is not just good with payments but its user interface is simply magnificent not to talk of their ever considerate customer care.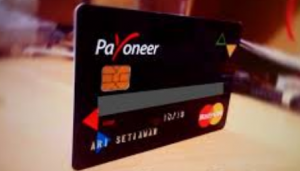 The Requirements For Opening a Payoneer Account/ Payoneer Account Creation
Creating a Payoneer account is like creating any other money based account, so you have to be ready with all details which include;
A valid Email address.
Valid postal, home or work address. Somewhere that your Payoneer Mastercard can be delivered to.
An official ID e.g National ID card.
If the account is a shared account, i.e you have a Partner, he/she should have the same details ready.
To open a Payoneer account, you should have a local bank account. This will enable you to withdraw money from Payoneer to that account with ease. When creating a Payoneer account, some details about your local bank will be inquired.
Some Information you might have to browse out i.e the Billing Code of your Country, Postal Code address of your country. This information might not be needed, it just depends on the kind of account you create.
Also prepare your company details if it's a company account.
To avoid going through a lot of registration stress, try opening an account via services Payoneer partnered with e.g Yahoo, Fiver, WordPress, AOL, Amazon, Wish.com, Envato, Google, Walmart or via your Local bank and so on. Only do this if you use any of these services.
Payoneer Account Creation – How to Set-up a Payoneer Account
Visit Payoneer official website and click on SIGN UP.
Fill in your Email address, Password and Names.
Set up your Secret Question and Answer.
Select an I.D type and fill in the details.
Provide your Local bank account details.
Apparently, you are not setting up an account; you are applying for an account. After filling the application form, be patient and wait for an email notification regarding the approval of your application.
If approved, go further by applying for the Payoneer Mastercard. Note that to do this you must have a minimum of $30 in your account.
The card process takes quite a lot of time. After applying it might take up to three weeks before the card gets to you.
After your application for the card has been approved which should take more than a week at least, a mail would be sent to your Email regarding how and when your card will be delivered.
When you finally get the card, please Login to your Payoneer account using your Login details and activate the card.
If you have issues setting up the account please contact Payoneer customer care via 009 1 646-658-3695.
Do not open a Payoneer account and abandon it. Open one when in need of it and be sure to be clear about the currency available to you. Open a Payoneer account today and start earning rewards from Payoneer, make international transactions easy and flexible, and build your business coast.