Instagram Live – One of the best features on Instagram that allows users to stream video to followers and engage with them at that moment. This pandemic has crippled the world locking everyone at home and the need for entertainment and connection is very high. Instagram lives help friends and families reconnect in a unique way.
Users can broadcast live videos of themselves doing one thing or the other, sometimes just for fun or to share one information or the other. This feature has become very desired and used these days, therefore, increasing the activities on Instagram.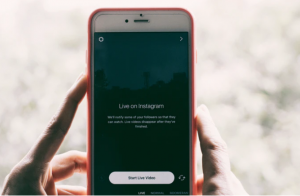 What Can You Use Instagram Live For?
Product Marketing: Create awareness about your products and services, increase its sales by advertising on Instagram. You could also do this by empowering Instagram Influencers to assist you with it.
Generate Leads.
Create Instagram Competitions.
Inform people about your lifestyle.
Engage your followers and stand the chance of gaining more followers by doing interesting live broadcasts.
Connect with different people. That's Instagram's basic purpose, Instagram Live just makes it more interesting, fun, and easy.
Instagram is a very large platform with more than 100 million very active users. Taking this amount of users into consideration, Instagram is a perfect site for creating awareness. You could use Instagram Live to create a consciousness and perception of yourself and what you have to offer.
How to Use Instagram Live
If you are using this feature, I am going to presume you have a number of loyal followers who'd be willing to turn in to your show immediately it starts. If you don't, means you are doing something uniquely tempting and inviting.
Success is achieved when preparation meets luck. Be prepared and luck will come your way anyway. Determine where, how, and when you want to broadcast. Create awareness about the time your broadcast is starting and what the broadcast is going to be about.
Click on the camera icon or swipe right on your Instagram feed.
Tap on Live, and then Start Live Video. Edit how you want the video to look like and select the camera (Front-facing camera icon like taking a Selfie).
When you are done, tap on End to finish up.


Editing Comments

To pin comments, Select the comment and press on it till it appears at the top.
To turn off comments, tap on the Settings icon (the gear icon or the three dots icon) and then Turn Off Commenting.
By following the steps above, you could also check and edit the kinds of comments you want to pop up while on your Live broadcast.
How to Start a Live Video with Someone on Instagram
This is a very important part of this article because it helps connect people especially in times like this when hearing from close ones can be a live saver. You could choose to invite the person or Join a Live Broadcast.
To go live and invite a person, follow these easy steps;
Locate and press once on the camera icon at the top left corner of your screen or swipe right on your News Feed.
Flick Live at the bottom of the screen and proceed to tap on the disk looking icon.
Find the icon with two smiley faces on each other and tap on it.
Select a person you want to add to your live broadcast. Note that you can only invite someone online who is already viewing your live broadcast. That way the person must have already known of his/her invitation to your live broadcast.
Immediately the person accepts, the live broadcast view becomes like a video call. The screen will be in a split view.
You will also be notified if your invitation is declined.
If you want to remove the person, just click on the X at the top right corner of the split-screen. Note that only two people can broadcast simultaneously.
To Join a Live Broadcast
Follow the same steps. Like you want to view the live broadcast.
Navigate to the Request option and when you see it, click on it.
Send the Request.
When your request is accepted, you will be notified that you are about to join the live broadcast.
How to View Someone's Instagram Live Video
For anybody doing a Live stream on Instagram, a colorful ring will appear on it with the word Live. Tap on it to view. In most cases, to view someone doing a live stream, you should be a follower of that person. That way it will be easier for you to be aware whenever the person is live streaming.
Note that immediately you join someone's live video, everyone on that live video feed becomes aware that you've joined.
Tap on Comment at the bottom of the screen to leave a comment and on the love, sign to like.
Most Instagram users prefer to share their live video broadcasts to their Instagram Story. So in case you missed the live broadcast, just click on the story icon at the top of your News Feed.
It's like watching a video on a video player, tap on the right or left side of your screen to forward or backward the video respectively. Note that you can only do this via the Instagram app.
Conclusion
You could also save Instagram live broadcasts by clicking on Save at the top of the screen after the live broadcast or share it by clicking on Share at the bottom. By doing either of this, you can keep and create awareness about the video to people that miss your live broadcast thereby giving them reasons not to miss your next live broadcast.
Instagram Live is one of the best Instagram features, it's easy to use and it's for everyone, whether you want to watch or create.
Also, Read How To Go Live On Facebook – Facebook Live Streaming Now