U.S On the Verge of Tik Tok and WeChat Ban – It's no surprise that the U.S plans on banning two of the biggest social media networks from China. Most of the reasons given by the different U.S spoke persons have only pointed to one cause: security for the U.S citizens.
India already banned Tik Tok, WeChat, and 57 other Chinese apps earlier this month. Over the kinds of content, the social media network contains. Some might say the ban might also have a thing or two to do with India and Chinese military troops clash over the unsettled Ladakh region which borders both nations.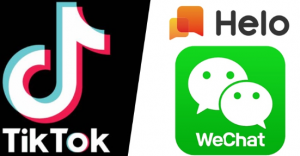 Tik Tok and WeChat
Both are Chinese-originated social media networks owned by different parent companies and functions differently. Tik Tok, a short video-sharing platform owned by ByteDance and founded in 2017.
Prior to the Tik Tok launch, ByteDance released Douyin in 2016 for China. To date the Chinese only use Douyin. Tik Tok and Douyin are very similar but they run on different servers.
Tik Tok has seen very rapid growth recently. Its growth started when it merged with Musical.ly in 2018 making it become available to U.S citizens.
This year was Tik Tok's most successful as it became the most downloaded app in the first quarter of the year. This is probably due to people trying to find new ways to be entertained while on lockdown.
WeChat on the other hand is an instant messaging app that also offers mobile payment services. Developed by Tencent and released in 2011, this app is one of the powerhouse apps in China due to its multi-functionality.
But unlike Tik Tok, WeChat operates in China hence under Chinese law. This poses serious security threats to users using the app from other countries.
Why Trump Eyes Ban on Tik Tok & WeChat
The U.S military banned personnel from having Tik Tok on their personal devices or Government-issued devices since late last year. Wells Fargo has also followed suit and Amazon came very close to doing the same.
As I earlier stated India already did so stating that the 59 Chinese apps banned were "prejudicial to sovereignty and integrity of India, defense of India, Security of state and Public order". In simple words, those Chinese apps contain contents that violate India's law and disturb the citizens of India's privacy and security.
Trump confirmed that the U.S is considering a ban on Tik Tok. He said "It's a big business. Look, what happened with China with the virus, what they've done to this country and to the entire world is disgraceful".
There are also reports from the white house to expect strong actions on Chinese apps especially Tik Tok and WeChat.
A lot of data from innocent U.S citizens who have several accounts on these Chinese apps might not be entirely safe. The U.S government thinks the Chinese government might be spying on U.S citizens. Through these apps and might use the data and information against the U.S.
Tik Tok and WeChat Reaction to a Possible Ban
Although WeChat has not really shed any light on the suspicions aroused by the U.S, Tik Tok did try to assure users that whatever they share on the platform is safe. Tik Tok stated that it has never shared user data with the Chinese government and won't do so if asked. Tik Tok also confirmed that its American servers are located in the U.S.
A WeChat ban might not really affect the network that much. Since a very high percentage of its users come from China. Tik Tok on the other hand has already started experiencing the effect of India's ban.
WeChat is mostly used for messaging. Hence blocking the app might just encourage users to find Chat apps alternatives. That might not be the case for Tik Tok.
Is a Ban Possible?
Looking at how speculative a ban on Tik Tok and WeChat has been, one might begin to ask if a ban is truly possible. Given that India has already done so and its effects are already dawning on Tik Tok India's server, yes it just might be possible.
A ban on any of these apps would remove them from legal and well-known app stores like Google Play Store and the Apple app store in the U.S. But there are constitutions and laws that protect software against such actions in the U.S.
A straightforward ban might not be possible but there a few ways to achieve something close to a ban. The U.S administration could decide to make Google and Apple cut their ties with Chinese apps companies hence getting them removed from the respective app stores and making it hard for U.S citizens to download such apps.
If a ban was put in place on these apps, a high percentage of the U.S citizens would rather resist. Revolting and finding new ways of downloading any of these apps especially Tik Tok to their device. The likes of Google and Apple are likely to resist also due to the effect it would have on their app stores.
For now, one can't really conclude on anything or spin any web relating to a possible ban on Tik Tok or WeChat. All we could do is wait and see how it all unfolds.
Editor's Pick