Verified High Profile Twitter Account Hacked By Scammers – If anybody was to make a list of their best social media networks, Twitter would be in the top 5 for at least 90% of people. Not because it has any features or properties but its unique mode of operation makes it the best platform for a lot of exclusive drama.
Twitter always has something amazing cooking. I would tag the platform as a "Freelance Drama Zone". But something different happened yesterday, a different kind of dangerous drama, one that is very well-revered.
A Hacker(s) allegedly gained access to the Twitter admin tool and hacked verified accounts on Twitter to orchestrate crypto-currency scams.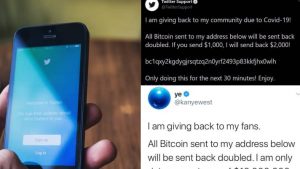 Whose Accounts Were Hacked?
These accounts were not regular accounts but Twitter verified popular accounts and this made the scam very effective. Imagine Twitter accounts of the Likes of Elon Musk, Joe Bidden, Jeff Bezos, Bill Gates, Barrack Obama Wiz Khalifa, Kanye West Popular Crypto-currency accounts, Apple and so on tweeting about crypto-currency bonuses.
These tweets were mostly about engaging the Twitter community to send a particular amount of crypto-currency coins to get double the amount they've sent.
How is this Possible?
We live in a digital world. Gone are the days where you should believe anyone who says your information or data or anything of value is safe online.
Gaining access to a Twitter admin tool allows Twitter employees to control access to a person's account on Twitter.
Twitter did report: "We detected what we believe to be a coordinated social engineering attack by people who successfully targeted some of our employees with access to internal systems and tools".
It would seem that Twitter acknowledges that the hackers were a group of people. Firstly, they targeted Twitter employees and successfully gained access to powerful tools that can be used to access any Twitter account(s).
The Hacker(s) used the tool to reset hacked accounts email addresses thus making it difficult for real owners to gain access back. Then the scam began. It is also reported that the Hacker might have paid a Twitter employee to change the email addresses of the hacked Twitter accounts.
Who is this Hacker?
News and screenshots of the tool used for the hacking process have been circulating on the web. Although you might not get to see it since Twitter has been doing everything to stop its circulation.
From reports by Techcrunch, the hacker was allegedly identified as "Kirk" who generated over $100,000 in the hacking scheme. There isn't really much we can say about this as Twitter is still investigating what happened and trying to figure out if any other harm was done.
How Will This Affect Twitter?
Although Twitter worked to gain access to the hacked accounts back as quickly as they could, they would still face a lot of questions and fines. Twitters briefly suspended hacked accounts. They also remove the scam tweets and stopped verified accounts from Tweeting just to put the whole hack scheme under check.
In an attempt to put the whole issue under check, Twitter's stock slid down by 4%. This number might see an increase as a result of the aftereffect of the hacking scheme.
Conclusion
Twitter confirmed that there could be a higher aim than the cryptocurrency scam that was orchestrated yesterday. This Twitter is currently investigating.
If you also think of it: it will be absolutely abnormal to gain access to a lot of verified Twitter accounts as such that was hacked last night and the only thing you could do was to perpetuate a cryptocurrency scam.