Tik Tok Ban – Everything We Know – Tik Tok fame has risen among people recently. One of the biggest reasons are the effects of the pandemic leading to boredom and loneliness on a whole different level.
It's no news that the new cure to boredom is Tik Tok with its interesting properties and funny short videos. The Bytedance app was the most downloaded app in the first quarter of this year, kicking out the likes of Facebook, WhatsApp, Twitter, and Snapchat off the top of that list.
It's largest user base comes from India, Brazil and the U.S. China is not on that list because Tik Tok has a different version for users in China called Douyin. Tik Tok has seen an immense growth this year, but now it's sudden rise is on the verge of collapsing.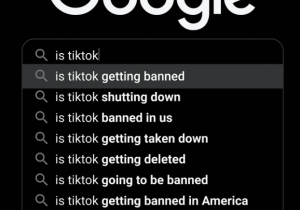 Tik Tok Ban – Why?
The Tik Tok app has a very large amount of users scattered worldwide. The fact that it beats Facebook as the most downloaded app this year proves that already.
But with its immense rise, people are beginning to wonder if the Chinese government has influence over the app. If such thoughts are true, it implies that the Chinese government will have access to data of about 800 million Tik Tok users worldwide.
Although Tik Tok has made statements against such thoughts. Stressing that they have and will never give or sell out user's data to the Chinese government.
For now, things are not really crystal clear. On second thoughts, one would reason considering the toll the pandemic which originated from China has already taken on the world, there might be some truth in such beliefs about Tik Tok and the Chinese government.
Who is Banning Tik Tok Already?
For one the Tik Tok ban just became a topic as of recent, but I guess Tik Tok had it coming for some time now. Indonesia was one of the first to do so on the 3rd of July 2018 because of the kind of contents (Pornography and Blasphemy) found on the platform. Tik Tok did arrange for some negotiations and was successful in lifting the ban.
The U.S has also fined the app developers for violating Children's Online Privacy Protection Act by collecting information from persons below the age of 13. The Federal Trade Commissions and the United States Department of Justice have commenced investigation again as of July this year.
We all know that the US military prohibits soldiers from having the app on their device. This has also sparked up reports that President Trump plans on banning Tik Tok in the U.S. As hard as this might be, India already succeeded in doing just that on the 29th of June 2020.
U.S politicians are worried that the Chinese government might use the app to spy on its citizens.
India and Amazon's Ban
India's first Ban on Tik Tok happened on the 3rd of April 2019. This was after Tik Tok was accused of encouraging pornography, bad behaviors among youths and children, and containing illegal content. Tik Tok did quite a lot to lift the ban as India had the largest amount of Tik Tok users of any country. But to no avail until the 25th of April 2019 when the ban was lifted.
Who would have thought another India ban would come up? This was a result of the clash Indian soldiers had with Chinese troops which claimed quite a number of lives. Tik Tok along with 58 other apps was banned by the Indian government.
Lastly, there are also reports of Amazon banning employees from having the Tik Tok app on their device. But merely some hours later, the ban was acknowledged as a mistake.
What a Ban Would Mean For Everyone?
For Tik Tok, it would be very disastrous. As hard as a ban seems, one country already succeeded, many more could follow in such footsteps. It would drastically reduce the number of users Tik Tok has and spoil business.
For users equally devastating. For starters where do we get an app as interesting, fun, and unique as Tik Tok. If a ban was held, the main app store such as the Google Play store and the Apple store would have to totally remove the app from their store.
This would encourage Tik Tok enthusiasts or hardened Tik Tok users to find another way of downloading the Tik Tok app. This could prove very dangerous to mobile devices as the risk of mobile devices contacting malware or viruses increases.
Editor's Pick
Full Guide to Starting Instagram Live Videos