The Irregulars Season 2 Release Date – Everyone loves Sherlock Holmes movies, his ways, the cases he solves, his brilliance, and his exceptional view of life makes the character altogether very interesting to watch. The taste of Sherlock Holmes and his companion's excellence combined with mysteries of the supernatural makes this TV series one of Netflix's best.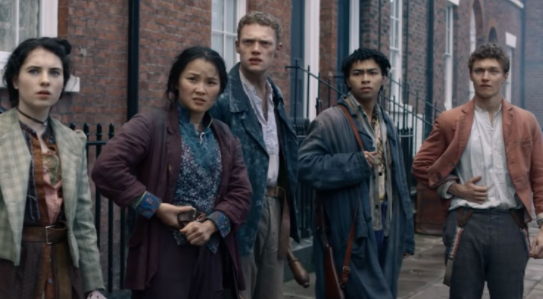 The Irregulars; Season One Review
Its first season was released on the 26th of March containing 8 episodes of nonstop supernatural thrilling activities. The eighth episode was pretty conclusive putting an end to most of the troubles created from the first one and creating new ones.
The Irregulars, unlike most Sherlock Holmes based movies which always center around the fantastic exploits of the unique private investigator. It takes the whole story from a different point of view by centering the tale-telling around Sherlock's offspring.
Sherlock's (Henry Lloyd Hughes) daughter Jessie (Derci Shaw) and half-daughter; Bea (Thadea Graham) are hired by Dr. Watson (Royce Pierreson) to investigate mysterious cases in London after Sherlock's disappearance. With time, Bea and her friends begin to unravel the mystery behind Watson's decision to bring them in on these supernatural cases.
Turns out, like her mother Jessie is gifted and might just be the key to solving the mysterious cases popping out from nowhere. This they managed to do but at a price which they would be paying for in the following season of this interesting series.
Sherlock Holmes is gone again, this time for good and Dr. Watson might never be able to heal from such loss. Beatrice somehow found love contrary to her sister's thoughts and just when she needed strength from the one she loves, he abandons her.
The Irregulars Season Two Casts
Sherlock's travel into the spirit world or purgatory as his beloved termed it means he might not be around the next season. It's certain that the main characters for season one would return.
Royce Pierreson (John Watson) would surely return as he mourns his partner; Sherlock. Thadea Graham (Bea), Darci Shaw (Jessie), Jojo Marcari (Billy), and Mckell David (Spike), the amateur expert investigators Watson hired are also going to be returning.
Harrison Osterfield (Leopold) ended season one informing Bea that they can't continue their love life because of what the kingdom demands from him as a prince and the price he had to pay to save Billy. This means he would definitely return. Other expected return casts are Jonjo 0'Neil (Mycroft Holmes) and Nell Hudson (Louise).
The Irregulars Season Two Release Date
The Irregulars surely deserve another season, it might not be the best of the best but it's lived up to the Sherlock character movie expectation. Although there is no official confirmation yet from Netflix on a consecutive season after the one they just released, one can be sure that's Netflix is not going to pull the brakes on this show.
Netflix would want to take advantage of the show's success and love from viewers however the production of its second season still depends on the producers and the availability of its main cast members. Even if production starts later this year as speculated by Production Weekly, it won't be released till Next year so you might want to hold onto your patience seat a little tighter.
More Like This
How to Stop Auto-Renewal On Netflix Subscriptions
Money Heist Season Finale 5 – Everything You Need to Know about the New Money Heist Season