Best Movie Download Apps – Looking for apps that can stream or download movies without stress, apps that work freely and are very easy to use? We've got a list of them here, and their reviews
Downloading movies has always been a thing with me because am a movie freak. So trust any information you get here because it was carefully researched and looked through before being written about. These apps are mainly designed to download movies.
Furthermore, if you are worried about your Wi-Fi or money, I considered my list based on apps that are not expensive and offer world-class services.
While there are some which you have to subscribe to there are also some that are free. This list is for anyone looking to download movies using apps, whether via paid subscriptions or free of charge.
I would also use this means to tip you on why it's better to use subscribed or paid for apps like Netflix. These apps are paid for so they offer their services at a certain class and standard. On paid apps, there is a guarantee of streaming interesting movies and series at HD quality legally. These apps tend to offer services that are worthwhile for your payment.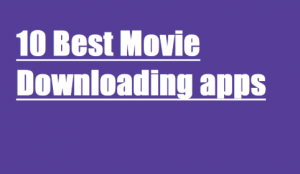 10 Best Movie Download App
Okay, straight to the list of the best apps you could use to download movies. Every app on this list works and I will be listing them based on my order of preference.
Netflix
You should have guessed, this will be my first choice. Yes, it's services are not free, it offers subscription plans but it also does the 30 days free trial tradition. Netflix, without a single ounce of doubt, is one of the best apps for streaming or downloading movies.
This app offers all kinds of interesting movies and TV series at great quality not to talk of its Original series. It also has a thing with getting user's exclusive access to all mind-blowing TV series and movies. You want the best and the latest at your fingertips, Netflix is the best place for you.
Check to See More How & Why To Sign Up For Netflix Account
YouTube
The You tube, a rich forest of engaging contents from sports activities to music, comedy, how-to, live lessons, educational, movies, and many more. There are almost no kinds of videos you can't find on YouTube.
Although most users do not know that videos (movies) can be downloaded from YouTube. Have got a full guide on it, you could choose to download Offline or directly to your device's memory.
Full Guide Download Video From YouTube | Android, iOS, Mac & Windows | How to Download Videos From YouTube
Showbox
This app is free, there is no paid subscriptions or anything of that sort and also fewer ads pop-up. Showbox app is easy and free to use and does not require the regular sign-up process.
If there is one thing amazing about this app, its is a clear user interface, so easy to grab and use.
Amazon Prime
We all know Amazon for its shopping features, what I could never guess is how it entered the show business. Amazon prime offers a unique storehouse of movies and attention-grabbing TV series like Netflix. It also does the 30 days free trial Netflix does implicate that it works on subscriptions.
Amazon also has Amazon originals shows and movies like that of Netflix originals. Its movies are in HD quality and downloading them is almost like buying them. Downloading movies couldn't get any better.
Sony Crackle
This is also a nice platform with great features. For the fact that it's free and does not work on subscriptions like Amazon and Netflix, its services are unique.
But like I listed earlier, there is always a difference between a service you paid for and one you didn't. Sony Crackle gives you the best movies at good streaming quality but not at the latest. It takes some time before you can start getting recent movies on this app.
Tubi
An app that offers free movies and TV shows orderly categorized giving it quite a neat and outstanding user interface. It's one thing to have the quality free Movies, it's another to have a platform that offers them without problems attached, that's Tubi.
VidMate
The funny thing about this app is that it does not only function as a movie or TV show platform but as a third-party video or movie downloader. It can download movies from sources like YouTube and Instagram.
VidMate has a simple interface and its one of those apps I'd prescribe to anyone who doesn't want to spend much on downloading movies.
MegaBox HD
Also free, one of the best apps to watch or download movies and TV shows in HD quality from. It is free and it also offers subtitles download.
It is very easy to use the app with an interface that can be easily comprehended. It works like any other free movie download app, just cleaner and faster.
Vudu
This is another paid for TV app. This app competes with the likes of Amazon prime and to me operates better than Amazon Prime. It also offers HD quality movies at great prices and does not rent movies like Amazon.
Vudu app is available on smartphones (android and IOS) and on PC. So if you prefer to watch or download movies to a bigger screen, try Vudu.
Popcorn Time
The name alone sounds quite interesting.
Warning: don't use this app without popcorns, Just Kidding.
It's a great app, very easy to use and friendly. Also, I would advise you to use a VPN with this app because it's not exactly legal to use.
Furthermore, with time, I must confess, Popcorn time has dropped and probably loosed a lot of users. This is why this app is the last on my list.
Downloading any of the Apps
All of the above-listed app functions on Android and IOS devices alike. The apps that use subscriptions (Netflix, Amazon Prime, Vudu) will surely be available on your device's playstore and also functions on PC or Desktops. But for the ones that are free i.e download movies for free, you might need to visit the mobile site of the apps to install the apk version of the apps.
Google Play or the Apple store won't have most of the apps that stream or download movies free apart from YouTube.
My top 10 apps to download movies from, enjoy.