The Family Guy game; The Quest for Stuff Apk 3.10.1 is now available for mobile devices as such can be downloaded directly to your device. Its animated TV series is quite hilarious portraying just how funny an American family could be.
The main aim of this game is to find, collect and build your character while going on different missions. It has all your favorite characters from the TV series here, so you could pick anyone you'd prefer and get on with being a Family guy.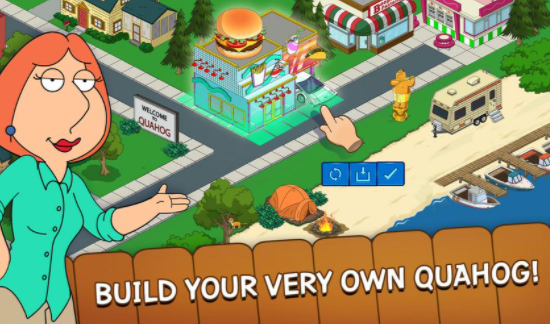 Interesting Features
Released by Fox Digital entertainment in conjunction with Jam City and TinyCo, this game basically allows players to build and maintain their own version of the city Quahog. It has the original story from the TV series where Quahog was destroyed, this way players are challenged to begin building from scratch.
There are also side quests for players to complete such as helping Glenn to find the Gold Digger Island and so on. As players advance and record more success by playing the game, Quahog grows thus adding more characters, events, and places to the gameplay.
What You Need to Know Before Downloading the Game
It's more like a simulation kind of game where players are required to build and maintain stuff to their taste.
It's free. You are not required to pay for anything unless you want to move faster than your gameplay abilities can.
There are a lot of characters and outfits from the original Family Guy series which you can try out.
FaceSpace; A social network where the game's characters can interact and share their achievements in the game.
Players can visit their friend's created Quahog.
Download Family Guy: The Quest For Stuff Apk 3.10.1
It's available for iOS, Android, and Windows mobile devices. Search for it on your device's respective app stores or use the web browser on your device to find websites offering the apk version of the game.
Download now and start creating your own version of Quahog city.
More Like This
Call Of Duty MOD APK 1.0.19 – Download Call Of Duty MOD APK For Mobile
Download Minecraft MOD APK 1.17 – Minecraft Caves and Cliffs Game Donwload